Scene of Mountains - Zhou Mingde Solo Exhibition
Sep 04 - Oct 30, 2021
Soka Art Taipei
Soka Art Taipei is honored to welcome Chinese contemporary ink artist Zhou Mingde and his new solo exhibition, Scene of Mountains. This 2021 exhibition marks his third solo exhibition following those in Taipei and Beijing in 2017 and 2019, respectively. In addition to showcasing works from his most representative series, In the Mountains, he will also debut his latest series, The Trace. As a result of more than two years of contemplation and study, the new series breaks from traditional landscape paintings in terms of media, composition, and format, while emphasizing the presentation of contemporary and abstract vocabularies. For this artist known for his creative style, this series marks another breakthrough that will leave viewers in awe! On September 4 at 4pm, the exhibition will formally open for a period of eight weeks until October 30, 2021. You are cordially invited to experience the beautiful landscapes exquisitely interpreted by Zhou Mingde in a return to the true nature of mountains.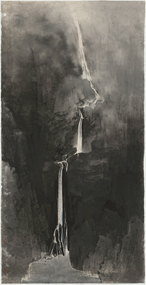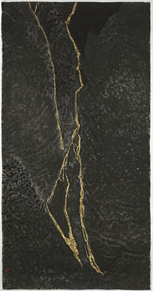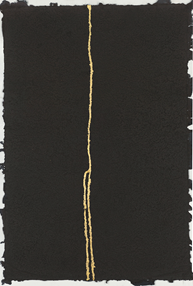 from left to right: White Silk Figure 2, White Silk Figure 3, The Trace
The Trace series serves as an extension of the White Silk Figure series. The initial work, White Silk Figure, closely reflects the monumental landscapes in Northern Song Dynasty traditions - featuring thin and long waterfalls cascading from the top of the mountain downward, turning a few corners to form a natural and graceful stream descending into the lake in the foreground, and forming a misty and majestic scene. By the time of development for White Silk Figure 2 and White Silk Figure 3, Zhou had gradually left out the thousand-rock texture presenting mountain layers. The delicately meticulous brushworks and texture strokes patterns of traditional ink painting are also replaced by large sections of ink.
Similarly, he no longer used the panoramic configurations of traditional ink painting, focusing instead on the waterfalls pouring downward in a rush from mountain peaks. Enchanting lines pouring naturally from the springs on the mountain top take into equal account blank ink and white space, becoming gold. Since then, the direction of his development has increasingly leaned towards an abstract style.
In terms of the media, overall composition and techniques, The Trace series has exceeded the framework of traditional ink paintings. Light and thin rice paper is no longer used as the background, nor is panoramic landscape composition the default. Instead, Zhou Mingde created a sparkling new contemporary abstract landscape without the traditional brush strokes of "hooks, textures, rubs, points, and wash." For his 2019 solo exhibition, he began to research paper-making. The process of pouring paper pulp is akin to the creation of a mountain. Accumulated over time, layer upon layer, mountains, hills, and ravines, as well as the folds of the earth crust, are shaped, resulting in a dense natural landscape. Using traditional Chinese mineral pigments such as rouge, cinnabar and azurite, Zhou creates a monochromatic land with different depths, presenting the exciting appearance of a land changing along with the seasons.
After completing the shape of the mountains, he begins to arrange the water. In terms of the "flying waterfall" arrangement, Zhou discards ink and brush, and adopts the traditional "water stains on the wall" technique. Based on his own experience with traditional Chinese aesthetics, he allows translucent glue to flow consciously on the irregular fibers and textures of hand-made paper, leading the fast or slow pace of flow, such that the water flows on paper naturally. Finally, some gold dust is sprinkled to allow the flowing watermarks to emerge on the plain and simple monochromatic land, leaving behind unique traces. It can be a flying waterfall, or a clear road, or perhaps a path that someone spends a lifetime seeking. It is exactly through the process of creating mountains and waters that Zhou achieves a spiritual serenity, reaching a true state of nature - "If the chaotic mind can rest, that is bodhi."